Schedule for Both Days
Doors open at 9:00 AM with doughnuts and coffee.
Talks begin at 10:00 AM. (Please don't be late!)
Lunch will be around 12:30 PM depending on talk length. We'll set you loose on the city, with ample time to find food and return to the venue. We'll resume talks at 2:20 PM.
Breaks will happen in both morning and afternoon, around 30 minutes each.
Talks end around 4:45 PM.
Party on Thursday Night
Party is on-site on Thursday, July 11th from 5:00-7:00. Food and drinks are on us.
After the party (still on Thursday night), we've notified Queen Anne Beerhall that a lot of people will be coming. Food and drinks are on you. Queen Anne Beerhall is all-ages until 10:00 PM. After that, it's 21+ only.
Finding McCaw Hall
McCaw Hall is at 321 Mercer St, Seattle, WA 98109. The building itself is huge and hard to miss, but the entrance is at the northwest corner. Parking is available at the 5th Ave N. Garage or the Mercer St Garage. The entrance and both parking options are shown below.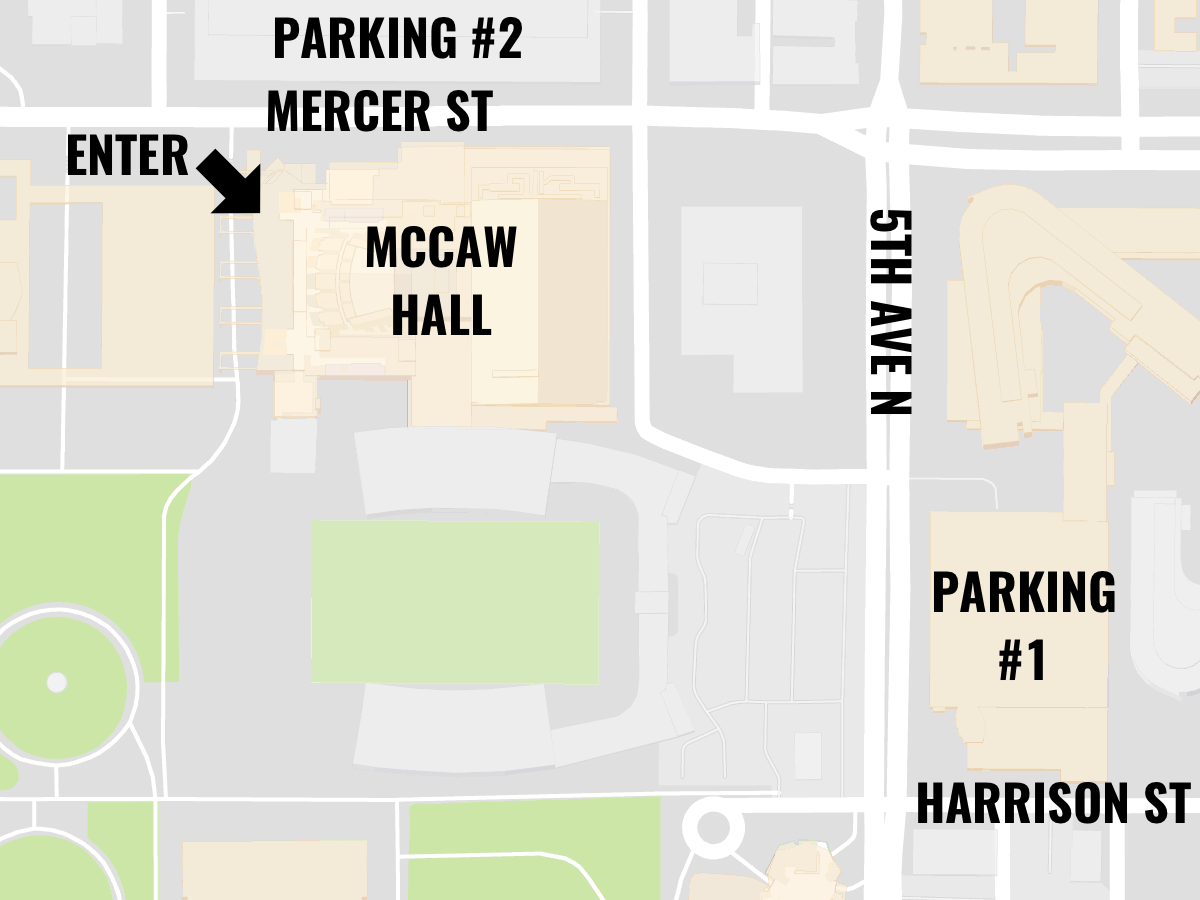 Getting Around Inside
The venue layout is pretty simple. You enter on the ground floor, where you'll find registration, coat check, and the lactation room. The theater is on the second floor, as are the restrooms (including individual gender-neutral restrooms on both sides). The childcare room is on the third floor. (Childcare requires pre-registration, which has now closed. If you requested it, they'll be expecting you.) That's all!
Code of Conduct
All attendees are bound by the Code of Conduct. If you need help with any code of conduct issue, you can contact the organizers at 206-785-9788. Someone will be available at this number at all times during conference hours and the party on Thursday night.
Accessibility
McCaw Hall is fully ADA accessible. Any member of McCaw Hall venue staff can provide directions to elevators, accessible seats, etc. If you have any accessibility problems, feel free to use the code of contact number above; it's the highest-priority way to reach the organizers.
Closed Captioning
We've hired a remote real-time captioner for the entire event. If you experience any problems with the captions, please contact us at the code of contact number above for the fastest response.
View live closed-captioning here! (It won't show anything until the conference has started.)
(FAQ: Why don't we have captions projected on a screen? Answer: Many attendees find themselves reading the captions simply because they're there, which is fine. But sometimes, the captioner makes a mistake and the audience laughs. This can seriously derail a talk: the speaker might be making a serious point, and suddenly people are laughing and they don't know why. We want to avoid this danger entirely, so we're using live-streamed captions instead.)
Lactation Room
We have a dedicated lactation room for anyone who needs it, including a refrigerator. It's next to the coat check, so you can follow any sign pointing toward that. Any member of staff can also direct you to it. If you have any problems, feel free to use the code of conduct number above to get a hold of us quickly.